The RelevantEdge Data Platform in 60 Seconds
For Sitecore CDP Personalize & Sitecore XP
CUSTOM ANALYTICS USING SITECORE XM CLOUD WITH OTHER DATA SOURCES
The easiest way to get granular, highly customizable website analytic is by using the content and component structure you have designed and built into your Sitecore XM Cloud implementation. This is especially true for multi-brand, multi-site, multi-language XM Cloud implementations.
Unlike traditional analytics, which relies on manual tagging, you can get rich website analytics with little effort simply by using the content tree — as well as templates, components and fields — you have created in XM Cloud.
The RelevantEdge data platform continuously extracts content data from XM Cloud and combines content data with data sources such as Sitecore CDP session data, GA4, social, paid, CRM, commerce. Use the ready-to-run RelevantEdge Power BI reports to enable stakeholders.
How RelevantEdge works with Sitecore XM Cloud
The RelevantEdge platform extracts and transforms data from XM Cloud solutions and then loads the data in a database that is designed for BI insights. If your XM Cloud implementation uses Google Analytics, RelevantEdge can extract content information from XM Cloud and session data from Google Analytics.
The RelevantEdge platform joins the session data with the respective XM Cloud content data. RelevantEdge loads the extracted data into a dedicated database that you host and control. RelevantEdge then provides the "last mile" data stitching so that you get a wide range of customizable, granular insights using Microsoft Power BI.
In addition, if your XM Cloud implementation uses Sitecore CDP, the RelevantEdge platform joins CDP session data with Google analytics session data so that you more complete customer journey – including customizable personalization attribution if your implementation uses Sitecore CDP Personalize.
What's more, you can use RelevantEdge to bring in data for paid campaigns, organic search, social media. And then there is customer data. If your XM Cloud customer journey includes CRM as a touchpoint and or commerce solution, you can use RelevantEdge to include CRM and commerce data in your BI reporting. The result is more comprehensive insights and better decision making.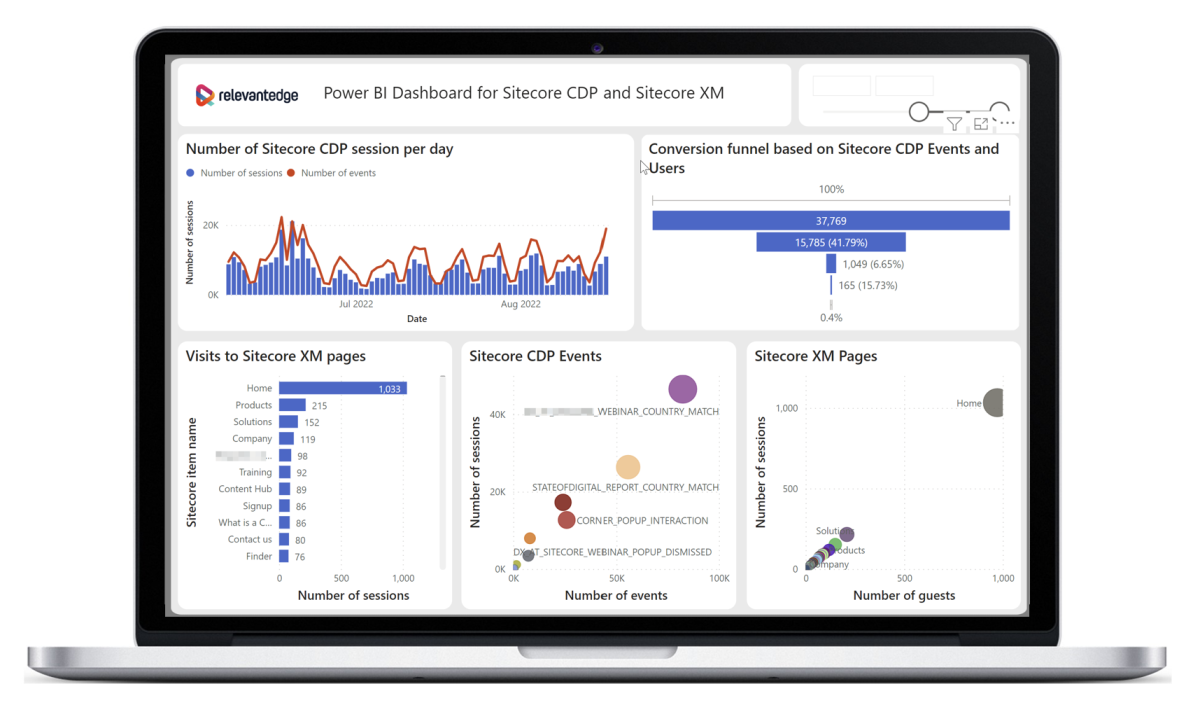 Get granular dashboards in Power BI and your data warehouse using RelevantEdge to combine data from Sitecore CDP Personalize with other data sources
CUSTOM ANALYTICS FOR SITECORE CDP PERSONALIZE
Go from CDP data to dashboards painlessly. The RelevantEdge platform takes care of the data engineering so you can get on with making data-driven business decisions.
Customer data often resides in multiple data stores. Unlock the full business value of CDP using an integrated analytics approach. The RelevantEdge platform enables you to easily combine data from CDP with data from CRM, commerce, Google Analytics 4 and backend systems.
Using the RelevantEdge platform, you are able to extract standard and custom data entities from Sitecore CDP and Sitecore Personalize. The RelevantEdge data model has been extended so that you can gain deep insights for Sitecore Personalize. These insights include the ability to granularly attribute personalized impressions and clicks to conversions and metrics such as revenue.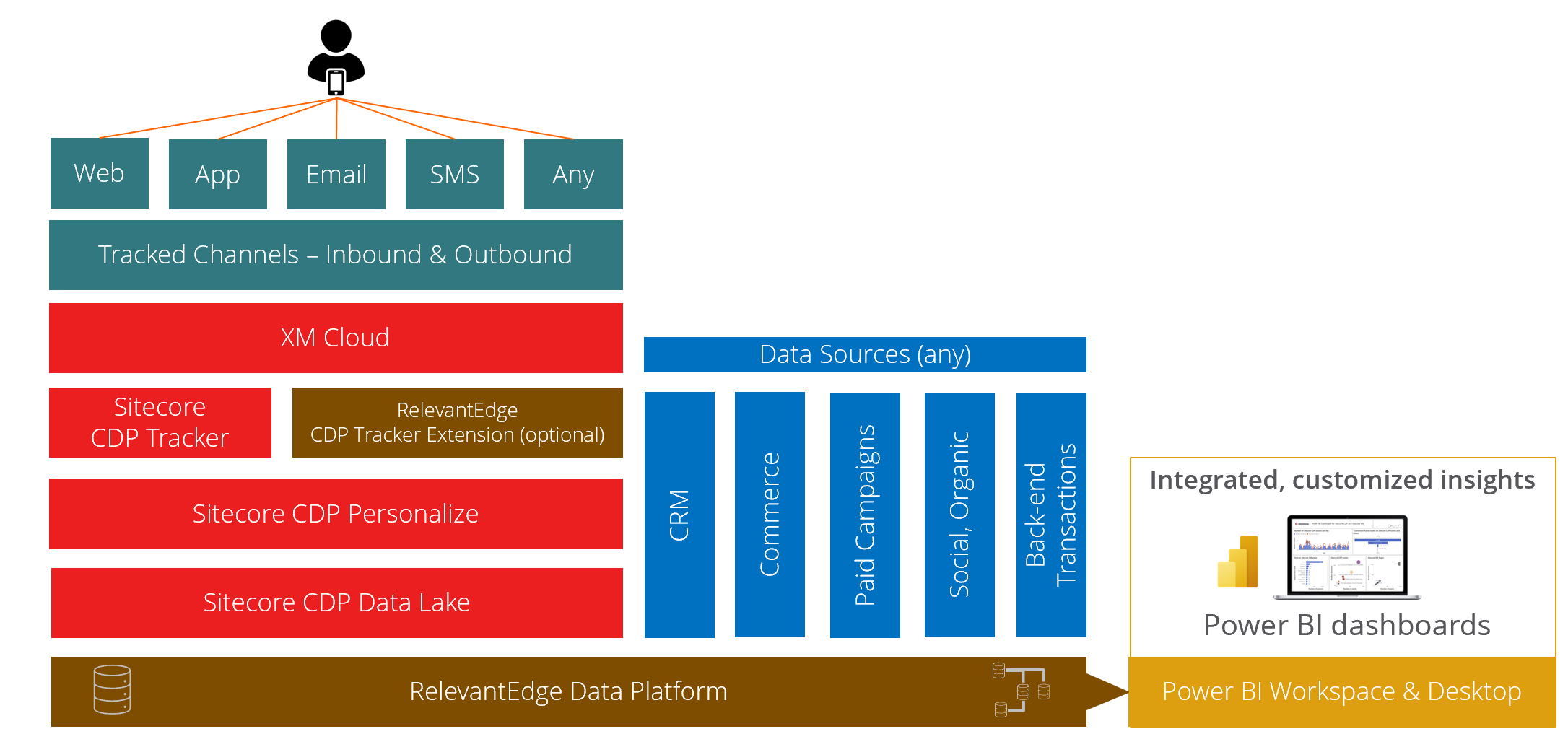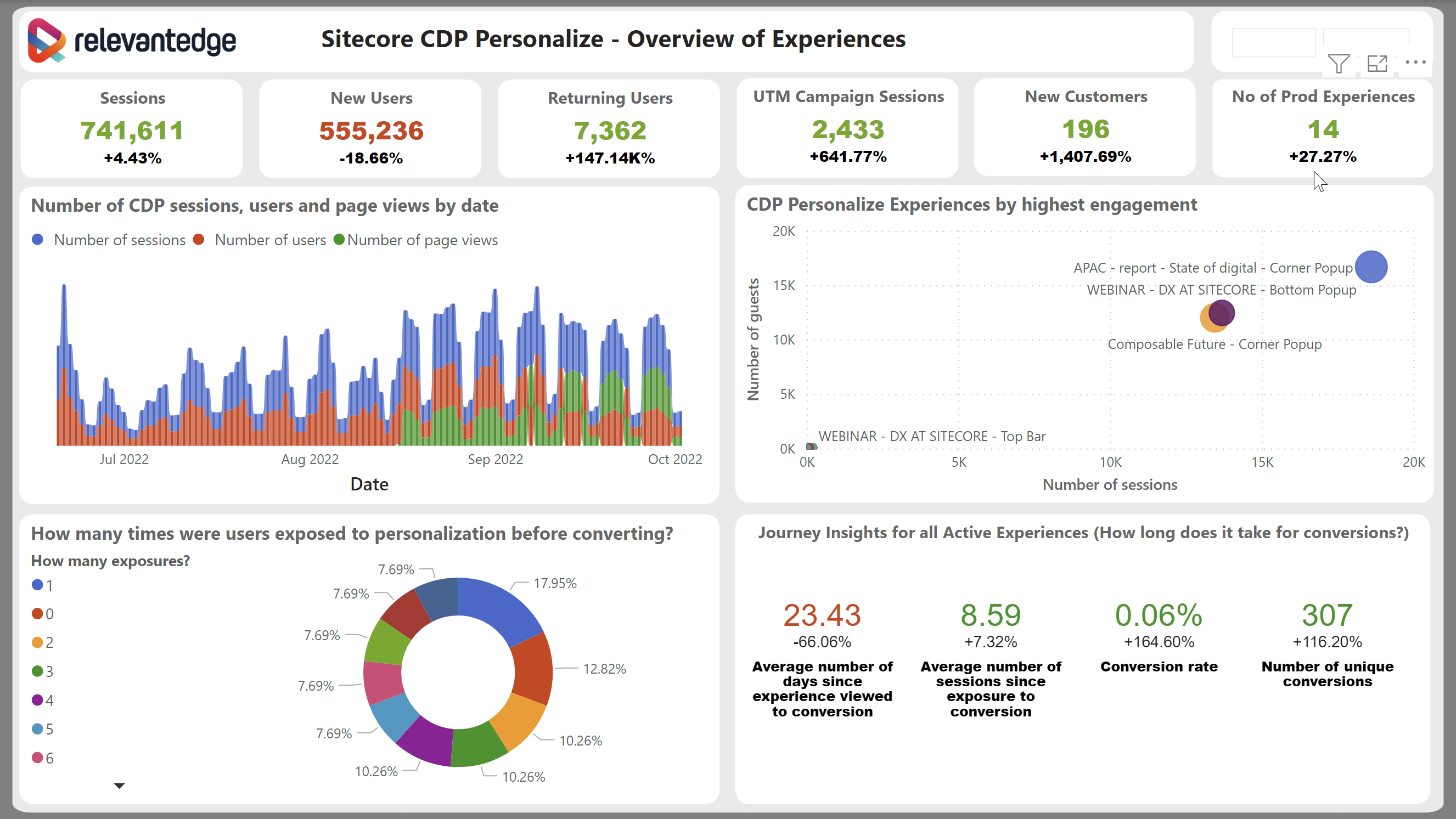 Click to enlarge
Featuring an innovative data model and extensive use of data transformation, the RelevantEdge BI platform is designed for digital marketers, data analysts, product owners and executives.
Organizations are able to visualize an incredibly wide range of Sitecore XP data and make better decisions when it comes to campaigning, lead generation, conversion rate optimization, personalization, A/B testing, product development and content marketing.
Ready-to-run, customizable solution
Includes more than 70 BI data dimensions and hundreds of filterable data points
Includes more that 20 Sitecore dashboards out of the box
Extend BI fields with your own measures, filters, etc. to create additional dashboards
Access to raw, collected data with options for unlimited data history storage
Options for integrating additional data sources such as CRM and commerce data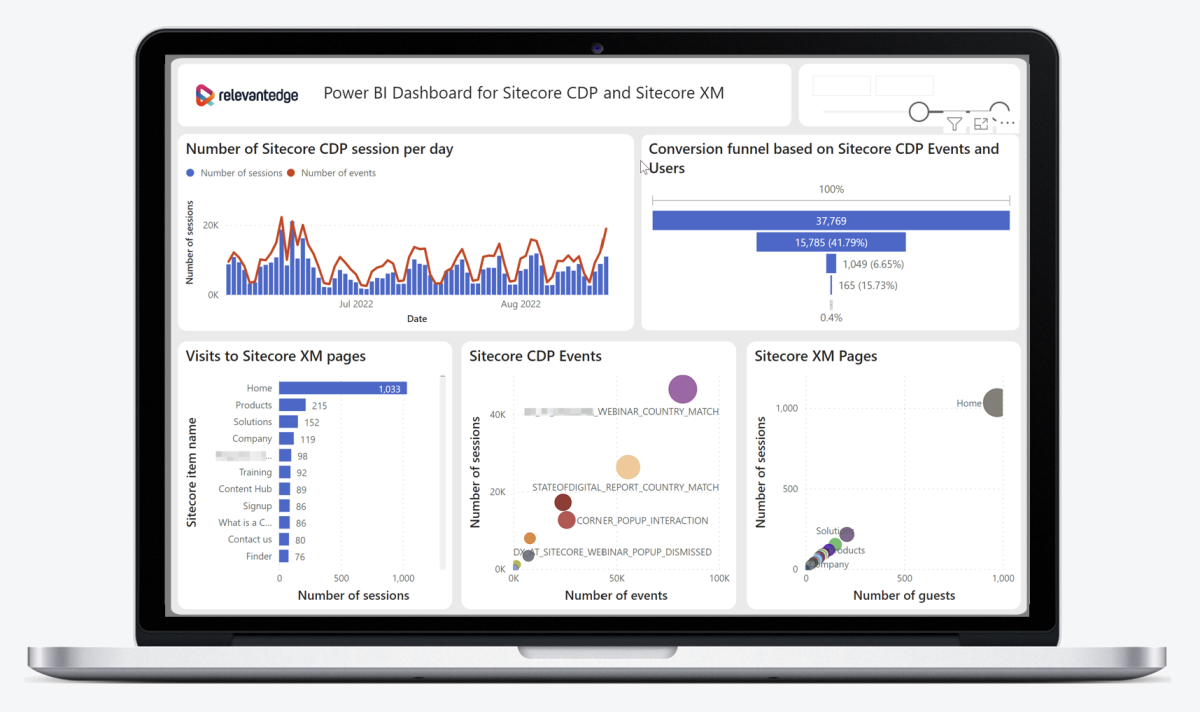 The RelevantEdge BI solution enables marketers, sales people, executives and analysts the ability to works with custom data, create dashboards and collaborate using tools such as Microsoft Power BI 365 and desktop along with Microsoft Office 365.
The RelevantEdge platform is used by Sitecore customers globally in verticals such as hospitality, B2B portals, B2C portals, finance, technology, healthcare, manufacturing and commerce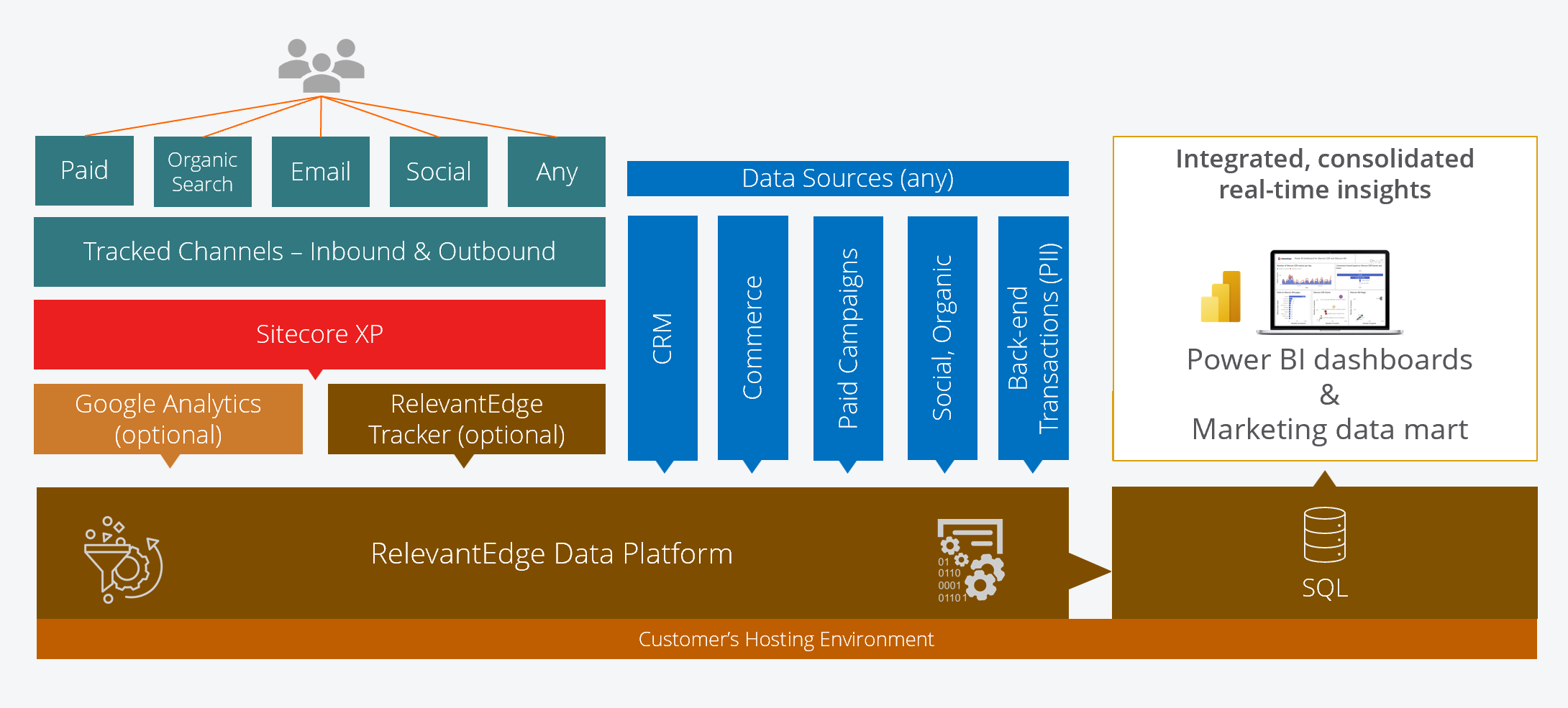 Click to enlarge